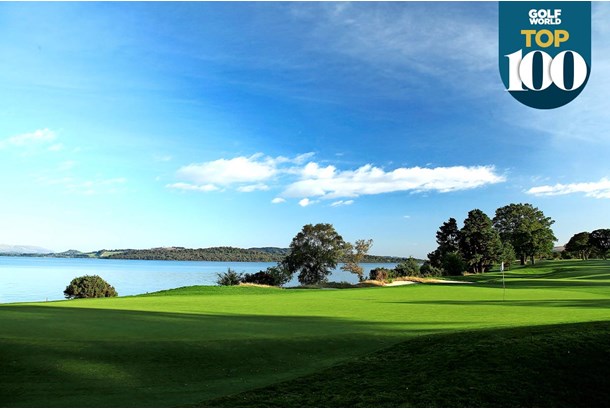 Bad Golf's John Robins took his first golf trip to Scotland and discovered how the other half lives with a round on one of Britain's most exclusive courses.
In his exclusive monthly column, the comedian, author, and broadcaster reveals the perks of being a golf influencer after being invited to play the incredible Loch Lomond.
The majority of courses in the UK are open to visitors and many, like my home club, are public courses with a membership attached. I love the relaxed atmosphere of my local club, even if it does come at the cost of Joe Public's relaxed approach to repairing pitch marks.
RELATED: Best Golf Courses in Scotland
I'm not someone who craves the trappings of wealth, only recently having scrapped a 2005 Skoda Fabia whose gaffa-taped rear window has rubbed shoulders with the Bentleys and Range Rovers on the rare occasions I've played a 'fancy course'.
However, it's only human to dream, and every so often my mind does wander to pyramids of Titleist Pro V1s, glinting in the morning sun on a grass range, or a bloody mary being brought to me on a salver on the 10th tee. Recently I had an opportunity to experience this parallel golfing universe, one where in 2005 I bought shares in Google as opposed to telling jokes in the back room of a pub.
Last month I wrote about experiencing golf in Northern Ireland for the first time. With my handicap chastened by the winds of Castle Rock, I put my clubs in the boot and headed off for a few days of sightseeing in Scotland.
RELATED: "I shot 102 with a smile on my face"
After posting a particularly well-filtered photo of Loch Lomond I received a message on social media asking if I fancied a round of golf. I get requests like this from time to time, mainly from viewers of the Bad Golf YouTube channel. I've never replied before, mainly because I'm just too shy to play with complete strangers, but also because Alex [Horne, Bad Golf co-host] Struggle to find time to film together once a month, let alone for bonus rounds.
But I had time to kill before heading to Edinburgh so decided to google the course on offer. And thank Tiger I did. It was Loch Lomond Golf Club.
Whilst my knowledge of public courses within half an hour's drive of High Wycombe is unparalleled, I'd actually not heard of this course before. I'd seen a sign for it as I drove around the loch, thinking "oh it must be nice to have a course near this!". After a few minutes online I could confirm that yeah, it looked pretty "nice".
And so it was that the following morning I headed to the gates of one of the most exclusive golf courses in the world.
I don't value exclusivity for its own sake, but visiting Loch Lomond GC taught me that if you're going to do it, do it right. The welcome was incredibly warm, and it became immediately clear that this wasn't one of those clubs that shouts from the rooftops about how much it costs to join, or how hard it is to get a round.
There are places like that, tagged into oblivion on social media, endlessly promoting an experience no one can afford. But this was different, after all, why boast to the whole world how great you are if you aren't going to let the whole world play? The word I would use is "classy".
RELATED: Britain's Best Inland Golf Courses
I was met in person at the entrance to the clubhouse and someone even offered to move my car! (If I still had the Skoda I reckon it might have come back with the repaired window). My clubs were then whisked away to the first tee. Before rejoining them I headed to the locker room.
I try to avoid swearing in this column, but when I walked into the changing rooms for the first time I uttered a few choice phrases. It is absolutely incredible. Now a blur of leather armchairs and wood paneling, I do remember the name 'Ernie Els' jumping out from an engraved name plate on one of the lockers.
As you walk away from the spectacular Rossdhu House towards the first tee, there is a sense that all this effort must have been made for good reason, there must be something to match the grandeur of the clubhouse, I detected just the hint of a twinkle in the starter's eye when I said it was my first time here (and most likely my last).
Well holy sh*t, this is the most beautiful golf course I have ever, or will ever see. There's something about the way the holes unfold that makes it clear the designers know they've got a deck full of aces, but they're not going to show you them all at once.
RELATED: Best Golf Holes in Scotland
The opening par 4 gives you a chance to get your bearings and appreciate just how well-kept this course is going to be. Then the dog-leg par-5 3rd gives you your first glimpse of the loch, on the short par-3 5th you play to a green backed by nothing save the vast expanse of water before the sixth and seventh breathtaking that gives you over a thousand yards of golf on the banks of the loch with Ben Lomond dead ahead of you.
When you turn your back on the water it's not goodbye, merely farewell, the course almost whispering "don't worry, you'll be back". But the views are out of this world from wherever you stand. Though a challenging course, all the hazards are in view, so you really feel it's a fair battle (one I convincingly lost by the way). I honestly cannot remember what I judged, probably somewhere in the 90s. On this course, time spent looking at your card is time wasted.
As the 18th brought me back to the banks of the loch, the most beautifully curved par-four towards the clubhouse, I was more than happy to leave a couple of balls in the water as a sacrifice to the golfing gods for the opportunity of a lifetime. And whenever I find my ball in a dog's footprint in a bunker, I will remember Loch Lomond, and how when I went back to my locker my beaten up old trainers had been cleaned and placed in a little box.
– As part of his BBC Radio 5Live show with Elis James, John recorded three special podcasts documenting his trip to Scotland, which you can listen to here.
READ NEXT: Best Golf Resorts in Britain and Ireland